Highlights from Past Events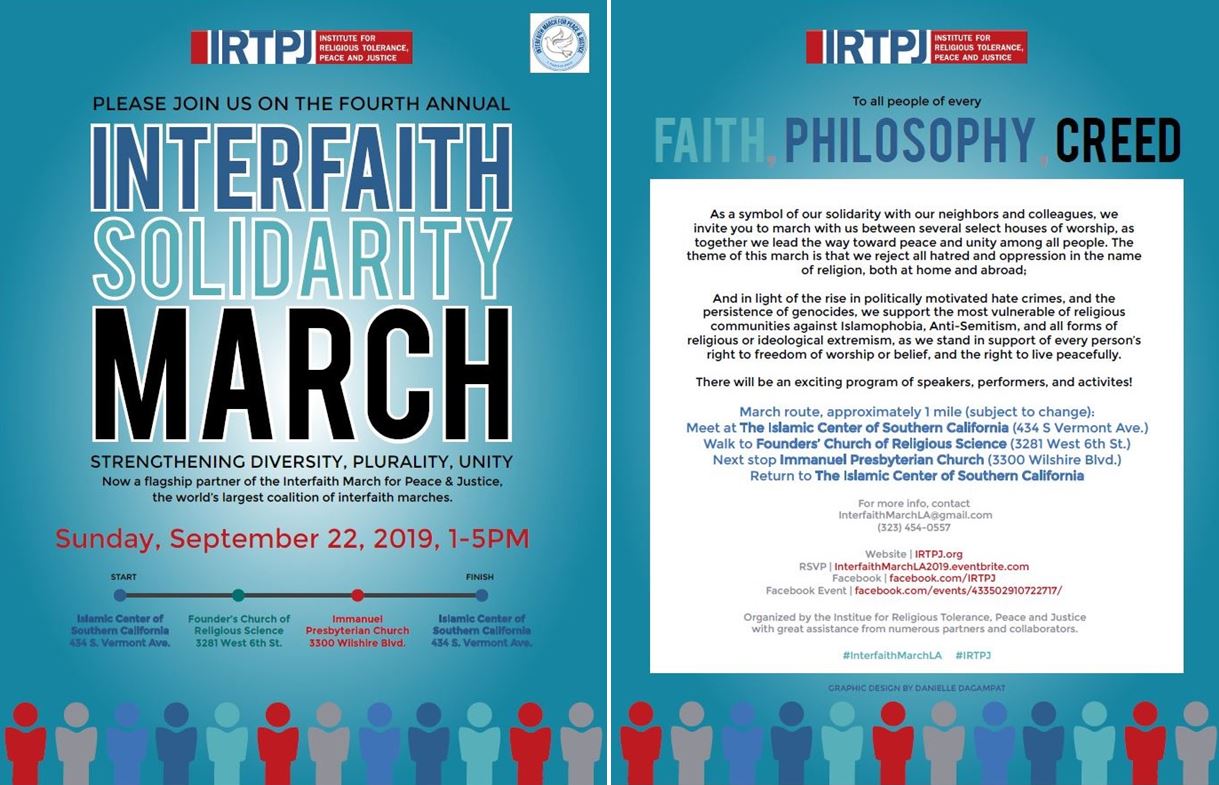 Interfaith Solidarity March Los Angeles/Interfaith March for Peace & Justice 2019
Thank you to all of the participants of the 2019 march! All of the details and the sponsors and speakers list are on the info page, click here. Stay tuned for photos and videos! WATCH OUR FACEBOOK PAGE FOR SOME MEDIA UPDATES INCLUDING A 1-MINUTE RECAP REEL! #InterfaithMarchLA
Interfaith Solidarity March LA 2017 #InterfaithmarchLA
To all people of every faith, philosophy, and creed:
As a symbol of our solidarity with our neighbors and colleagues, we march between several select houses of worship, together leading the way toward peace and unity among us all.
We reject all hatred and oppression in the name of religion; we support the most vulnerable of religious communities against Islamophobia, Anti-Semitism, and any form of religious or ideological extremism, as we stand in support of everyone's right to worship freely and to live peacefully.
Enjoy the photo gallery and videos below. Click on the button Event Program for the day's program and list of speakers. Click here for a great article about a sister march we helped organize in the San Fernando Valley.
[Thank you to the Liberty Hill Foundation for your support of the 2017 Los Angeles Interfaith Solidarity March.]
Interfaith solidarity march LA 2016 #InterfaithmarchLA
Enjoy the photo gallery below. Click on the button Event Program for the day's program and list of speakers.
Our ongoing program brings people of all ages and backgrounds together to learn about various faiths and build bridges.
Panel Discussions and Public Lectures
We seek to educate the general public about world religions, and pertinent issues they face. Topics have ranged from the nature of ISIS and Islamic extremism, to whether the Abrahamic faiths worship the same god.
An Evening of International Music & Dance
Our inaugural fundraiser, the event was a collaboration of over 50 volunteer performers and friends. Beautiful photos can be found on our Facebook page, click here for the photo album. Video of the show can be found below and on our YouTube channel.